information
Kodak i730 Professional 90 ppm A3 A4 Colour Pass Through Fast Document Scanner
In Good Condition and Full Working Order
Please Click HERE For Brochure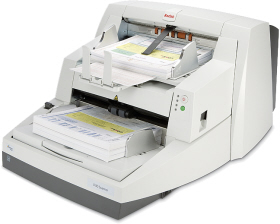 Includes:
1 x

Kodak i730 Professional 90 ppm A3 A4 Colour Pass Through Fast Document Scanner

1 x User Guide

1 x Brightness & Contrast Control Reference Guide

1 x Target Calibration Sheets Pack Qty:5 Sealed

1 x Target Calibration Sheets Pack Unsealed
Kodak i730 Features
Because mission-critical workloads demand real-world speed
On paper, the KODAK i730 Scanner outruns the competition with speeds up to 130 ppm. But unlike competing products, it delivers that maximum scanning while meeting real needs under real world conditions. You get true 130 ppm performance, even when scanning:
at up to 300 dpi resolution
in color, grayscale or black-and-white
in dual stream mode (outputting up to four images per scan)
with all advanced features enabled
Real-world performance makes the KODAK i730 Scanner the one to choose for mission-critical, high-volume forms processing across a broad range of applications.
Reliable, extra-versatile paper handling
The KODAK i730 model easily scans mixed batches of business documents, photos, tear sheets and graphics. A flexible input design enables it to handle a wide range of document sizes and shapes. And an included short-document exit tray allows for efficient stacking of smaller documents.
SurePath technology delivers the paper-feeding reliability you need for uninterrupted workflow—while ultrasonic multi-feed detection helps prevent misfeeds by recognizing labels, stick-on notes, and stuck-together documents.
And for added peace of mind, no matter where in the world you do business, all the support you need is nearby. Our global team of service experts is there for you around the clock.
VAT IS NOT PAYABLE BY PURCHASERS OUTSIDE OF THE UK
---
CS 151639 -scanner 151640 -manuals