Information
Juniper NetScreen 204 Advanced VPN Firewall Network Security
NS-204-001
In good condition and full working order
Removed from a working environment - no passwords or login details supplied
Included
1 x Juniper NetScreen 204 Advanced VPN Firewall Network Security NS-204-001
The Juniper Networks NetScreen-200 Series is one of the most versatile pair of security appliances available today. They easily integrate and secure many different network environments, including medium and large enterprise offices, e-business sites, data centers, and carrier infrastructure. Complete with either four or eight auto-sensing 10/100 Base-T Ethernet ports, the NetScreen-200 Series performs firewall functions at wire speed (375 Mbps on the NetScreen-204 and NetScreen-208). Even the most computationally intense applications, such as 3DES and AES encryption, are performed at speeds greater than 175 Mbps.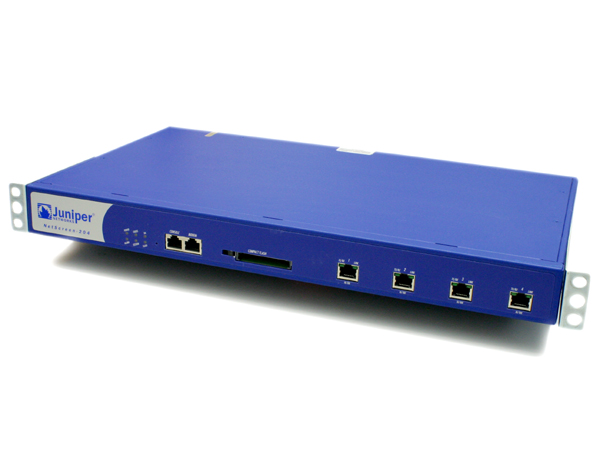 Specifications
Maximum Performance and Capacity
ScreenOS version support: ScreenOS 5.4

Firewall performance: 375 Mbps

3DES+SHA-1 performance: 175 Mbps

Concurrent sessions: 128,000(5)

New sessions/second: 11,500

Policies: 4,000

Interfaces: 4 10/100 Base-T
Mode of Operation
Layer 2 mode (transparent mode)

Layer 3 mode (route and/or NAT mode)

NAT (Network Address Translation)

PAT (Port Address Translation)

Policy-based NAT

Virtual IP: 4

Mapped IP: 4,000

MIP/VIP Grouping

Users supported: Unrestricted
Firewall
Number of network attacks detected: 31

Network attack detection

DoS and DDoS protections

TCP reassembly for fragmented packet protection

Malformed packet protections

IPS (Deep Inspection FW)

Protocol anomaly

Stateful protocol signatures

Content Inspection

Embedded Anti-spam

Malicious Web filtering: up to 48 URLs

External Web filtering (Websense or SurfControl)

Brute force attack mitigation

Deep Inspection (DI) attack pattern obfuscation

SYN cookie

one-based IP spoofing
VPN
Concurrent VPN tunnels: Up to 1,000

Tunnel interfaces: Up to 256

DES (56-bit), 3DES (168-bit) and AES encryption

MD-5 and SHA-1 authentication

Manual Key, IKE, PKI (X.509)

Perfect forward secrecy (DH Groups): 1,2,5

Prevent replay attack

Remote access VPN

L2TP within IPSec

Dead Peer Detection

IPSec NAT Traversal

Redundant VPN gateways

VPN tunnel monitor
Firewall and VPN User Authentication
Built-in (internal) database - user limit: up to 1,500

3rd Party user authentication: RADIUS, RSA SecurID, 802.1x and LDAP

XAUTH VPN authentication

Web-based authentication
PKI Support
PKI Certificate requests (PKCS 7 and PKCS 10)

Automated certificate enrollment (SCEP)

Online Certificate Status Protocol (OCSP)

Self Signed Certificates

Certificate Authorities Supported: Verisign, Entrust, Microsoft, RSA Keon, iPlanet (Netscape), Baltimore, DOD PKI
Logging/Monitoring
Syslog (multiple servers): External, up to 4 servers

E-mail (2 addresses)

NetIQ WebTrends: External

SNMP (v1, v2)

Standard and custom MIB

Traceroute

At session start and end
Virtualization
Custom security zones: 4

Virtual routers (VRs): 3

VLANs supported: 32
Routing
OSPF/BGP Dynamic routing: 3 instances each

RIPv1/v2 Dynamic routing: Up to 8 instances

Static routes: 4096

Source Based Routing, Source Interface Based Routing

Equal cost multi-path routing
High Availability (HA)
Active/Active

Active/Passive

Redundant Interfaces

Configuration synchronization

Session synchronization for firewall and VPN

Session failover for routing change

Device failure detection

Link failure detection

Authentication for new HA members

Encryption of HA traffic

LDAP and RADIUS server failover
VoIP
H.323 ALG

SCCP ALG

SIP ALG

MGCP ALG

NAT for H.323/SIP/SCCP/MGCP
IP Address Assignment
Static

DHCP, PPPoE client

Internal DHCP server

DHCP Relay
£200
VAT IS NOT PAYABLE BY PURCHASERS OUTSIDE THE European Union (EU) AND by purchasers in the EU (excluding UK)who are VAT registered
DELIVERY IS WITH UPS
Any questions?
Please call freephone 0800 328 4995 or from outside the UK +44 7725 301 888
LA 72957 (IB 64342)