Information
11 x Pluscom 66PB-MIX 6 Pin To 6 Pin FireWire IEEE 1394 400Mbps Cable 1.8M New
NEW
Part Number: 66PB-MIX
Includes:
11 x Pluscom 66PB-MIX 6 Pin To 6 Pin FireWire IEEE 1394 400Mbps Cable 1.8M New
More Info:
General Overview:
Pluscom's Firewire IEEE 1394a 6-pin to 6-pin connector cable provides High-speed data transmission up to 400 Mbps. It has molded ends for durability and longer life. It has superior shielding which reduces error rates and maximizes data transfer.This cable is most commonly used for connecting devices such as Firewire Hard Drives, Firewire CD-RWs and other 1394 computer peripherals.Firewire is widely used as standard port on all Digital Video Camcorders, and offers an easy plug and play method of connecting different devices to your PC/Mac.
Warning:
Before connecting this 6pin connector cable to a Firewire port in a device, align the connector with the port carefully. Do not force it into a port. Make sure you use the right connector with the right port. You should be certain about the orientation of the cable connector is the same as the Firewire port. NEVER force a connector into a port as you can damage the computer and the Firewire device.
Product Attributes:
Data transfer rates of up to 400Mbps
FireWire 6-pin male to 6-pin male
Hot pluggable, plug & play compatible cable
Molded Ends for durability and long life
Connect an external hard drive to a PC. DV, FireWire,
Used for connecting Digital Video cameras etc to a Macintosh Firewire port
Superior Shielding reduce error rates and maximizes data transfer
Transfer images and files between two FireWire compatible devices
Common uses are to connect a DV camcorder to a PC or DVR for downloading movies
Product's Details:
Ports: 1394a Firewire 6 to 6 Mini pin
Data Transfer Speed: Up to 400Mbps
Lengths: 1.8 Meter
Color: Black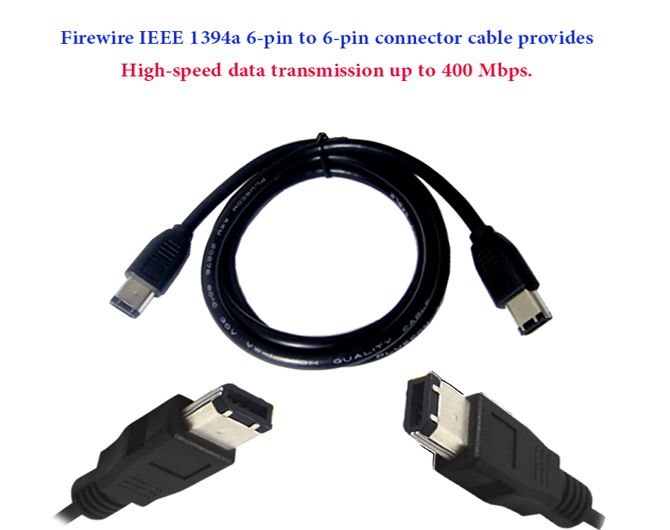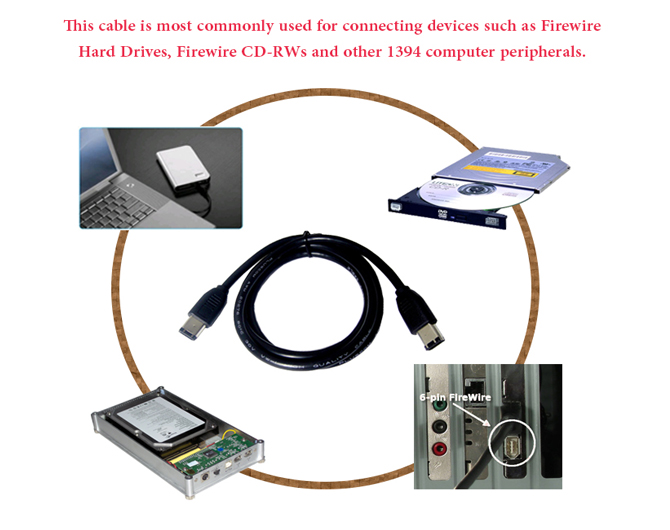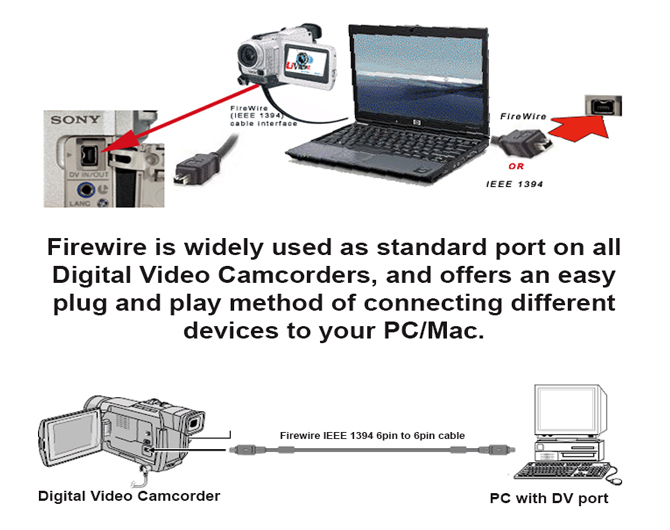 VAT IS NOT PAYABLE BY PURCHASERS OUTSIDE THE European Union (EU) AND by purchasers in the EU (excluding UK) who are VAT registered
DELIVERY IS WITH UPS
AJ 177180

(I/B 176908)